CULYNARY ARTS CERTIFICATE OF COMPLETION (NONCREDIT)
---
Apply Today!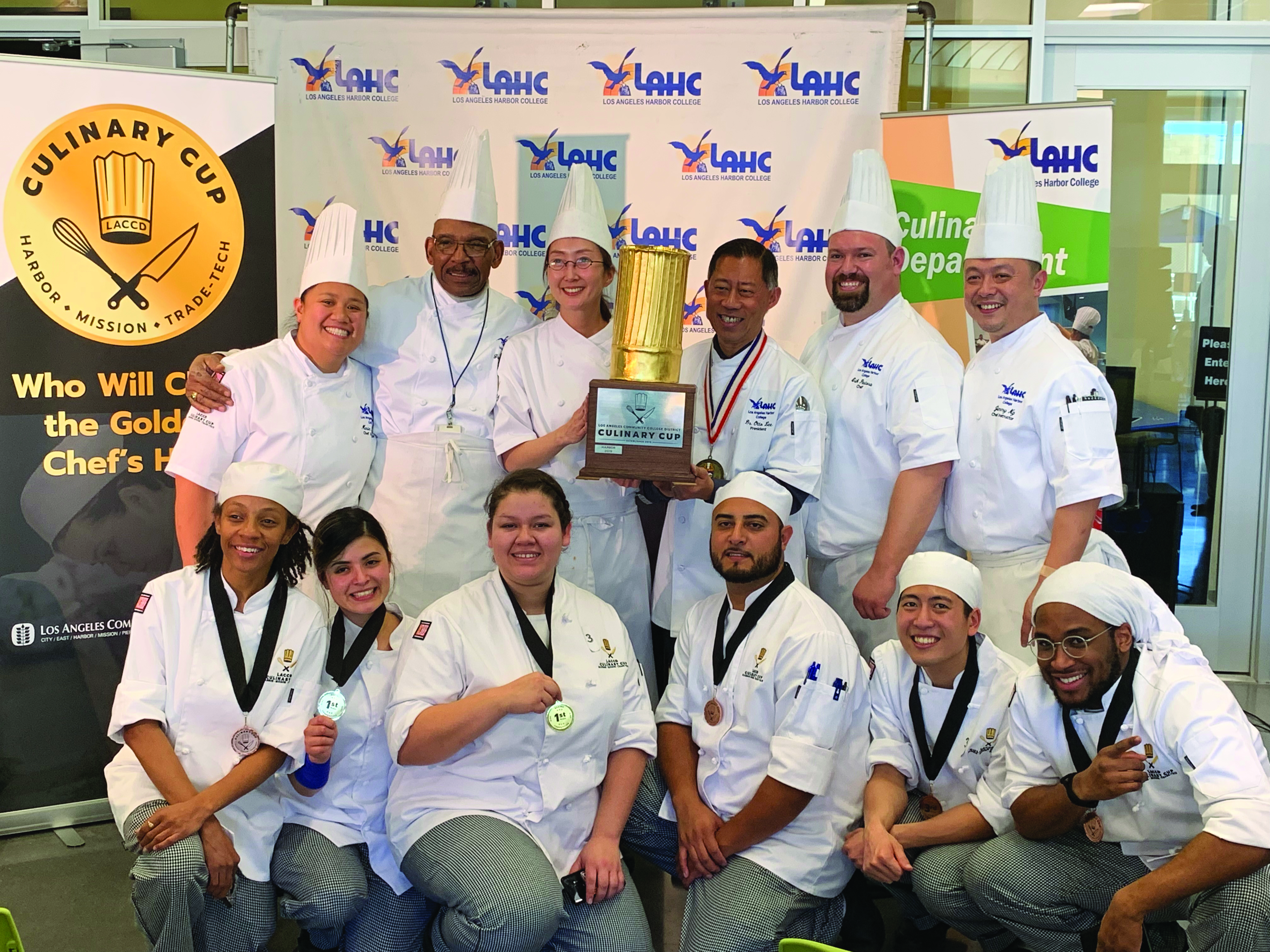 This noncredit certificate is your pathway into a career in food service and hospitality. Students will learn culinary basics, food preparation, and how to manage a successful food service establishment, including:
Cooking Techniques and Processes
Bakeshop Elements and Equipment
Dining Room and Kitchen Management
Students must successfully complete ALL courses to receive a Certificate of Completion.
CULINARY BASICS
Culinary basic Training (126 Hours)
| | |
| --- | --- |
| ​​VOC ED 539 | Food Handler's Card (18)​ |
| ​VOC ED 540 | ​Culinary: Elements Of Cooking Technique​s (36)​ |
| ​​VOC ED 541 | Culinary: Baking Skills (36) |
| ​​VOC ED 542 | ​Culinary: Dining Room Service & Garde Manger (36) |
Additional Support
VOC ED 543
Culinary: Basic Math Skills For Culinary Professionals (18)
ESL NC 360
Vocational English as a Second Language
Enroll in VESL (ESL NC 360).
Email sotos2@lahc.edu for more information.
Certificate of Completion Form
If you have completed all the required classes, fill out and submit this form to the Office of Adult and Community Education at adulted@lahc.edu. This form must be completed and submitted to receive the certificate. Certificate of competency will be mailed in 6-8 weeks.
Need Help?
| VOC ED 541: Baking |   |   |   |   |
| --- | --- | --- | --- | --- |
| Section | Date | Day | Time | Location |
| 14188 | 6/14-7/17 | Tu & We | 6:00pm-9:20pm | SU230 |
| VOC ED 539: Food Handlers |   |   |   |   |
| --- | --- | --- | --- | --- |
| Section | Date | Day | Time | Location |
| 14189 | 6/16-7/14 | Thu | 6:00pm-9:20 | SU230 |
| VOC ED 540: Elements of Cooking Techniques |   |   |   |   |
| --- | --- | --- | --- | --- |
| Section | Date | Day | Time | Location |
| 14791 | 7/18-8/18 | Tu & We | 6:00pm-9:20pm | SU 230 |
| VOC ED 539: Food Handlers Card |   |   |   |   |
| --- | --- | --- | --- | --- |
| Section | Date | Day | Time | Location |
| 17115 | 9/01-10/20 | Thu | 6:00PM - 8:05PM | SU 230 |
| VOC 540: Elements of Cooking |   |   |   |   |
| --- | --- | --- | --- | --- |
| Section Date Day Time Location | Date | Day | Time | Location |
| 17116 | 8/30-10/20 | Tu & Wed | 6:00PM - 8:05PM | SU 230 |
| VOC ED 541: Baking Skills |   |   |   |   |
| --- | --- | --- | --- | --- |
| Section Date Day Time Location | Date | Day | Time | Location |
| 17117 | 10/26-12/14 | Tu & Wed | 5:30PM - 9:45PM | SU230 |
| VOC ED 542: Dining Room Management |   |   |   |   |
| --- | --- | --- | --- | --- |
| Section Date Day Time Location | Date | Day | Time | Location |
| 26389 | 9/01-10/20 | Mo | 6:00PM - 8:05PM | SU230 |
| Section Date Day Time Location | Date | Day | Time | Location |
| 26284 | 10/26-12/14 | Mo | 5:30PM - 9:45PM | SU230 |