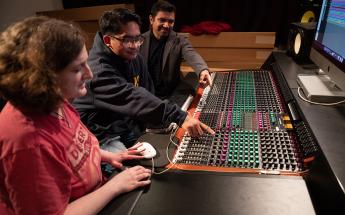 MUS 165 INTRO TO ELECTRONIC MUSIC MUS 261-1, 261-2, 261-3: ELECTRONIC MUSIC WORKSHOP 1-3
These courses emphasize the study and application of electronic, electro-acoustic, and digital music techniques. Technical, compositional, and performances skills applied to synthesizers, computers, MIDI, software applications, virtual instruments and digital recording equipment will be introduced and developed.
We have a state of the art digital music lab, with 22 fully loaded iMacs running Pro Tools, Reason, and a lot more.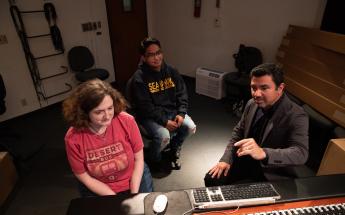 MUS 165 INTRO TO ELECTRONIC MUSIC MU 265-1, 265-2, 265-3:  ELECTRONIC MUSIC WORKSHOP 1-3
These courses are designed to prepare our students to work in any professional recording studio. through lecture and hands-on experience students will study acoustic principles, advanced microphone techniques, signal processing, track groups, and techniques for creating a balanced and effective mix using hardware and equipment and digital audio workstation (DAW) computer applications.
Recording Arts students have the ability to book time in our state-of-the-art recording studio for both class and personal projects.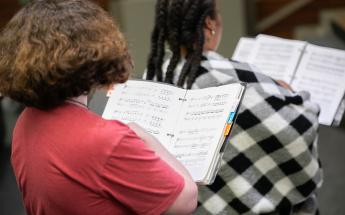 MUS 271-1, 271-2, 271-3 SONGWRITER'S WORKSHOP
This course offer the student the opportunity to develop skills in commercial songwriting. It offers student additional opportunities to develop more advanced skills such creating original melodies, hamonies, and lyrics.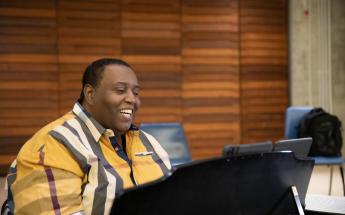 MUS 280 BUSINESS OF COMMERCIAL MUSIC
This course offers the student the opportunity to examine economic opportunitiesin the music industry. Job opportunities and responsibilites for the perfromer, arranger, sales manager, audio engineer and other music business related positions are examined. Students have the opportunity to research areas of interest and to discuss the music industry with guest speakers.